Reviewed by Carolyn Martin
Ocean's Laughter
by Tricia Knoll
Kelsay Books, Aldrich Press
Hemet, California
ISBN: 13: 978-0692541852
2016, $17.00, 102 pages (on Amazon)
triciaknoll.com
twitter:@ triciaknollwind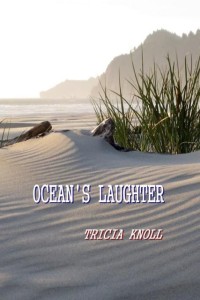 Those who know and love the Oregon Coast will experience a delightful shock of recognition while reading Tricia Knoll's Ocean's Laughter. This rich and varied collection about Manzanita – "an emerald of temperate rain-forest on the Pacific Coast ring of fire"– reveals a poet who has not merely observed nearly every inch of beach, type of sea life, and coastal weather event, but who – as a resident – has experienced them intimately for twenty-five years.
The result is a virtual guidebook to the history and mystery of a world that is forever changing. In her poems and prose poems, Knoll engages us with stories and myths of "first people" (the Nehalem Tillamook and Clatsop tribes), the "discovery" of the Columbia River by Europeans, the 1700 earthquake and tsunami, and the current concern that "Part of the ocean's depths are dying." As she says at the end of her prose poem, "Mise en Scène – Manzanita, Oregon," "Much comes and goes here."
What remains consistent about this striking collection is Knoll's ability to turn sharp observation into language that is precise, surprising, and musical.
For example, in the opening poem, "I Came Back Again and Again," she recounts why she returns to the coast in lines that sing: to "hold a hand, fold a leash … hear my sump pump chuff … tickle sea anemones to squirt at me … bike the bay spit trail when scotch broom blooms."
It soon becomes obvious that Knoll is a master of the list poem who revels in transforming piles of ordinary images into monuments celebrating everything from the City of Manzanita's Lost and Found Department to shopping at a local store. In the latter ("As for Shopping") we learn we can buy everything from bestsellers to Haitian metal work, from life jackets made for dogs to windsocks. What we cannot find, however, are things like diamond rings, gasoline, labradoodles, and parakeets. Beside all the expected and unexpected items that appear on shelves and all those that would be ludicrous to find, this poem is so much fun to read because Knoll has arranged all seventy-one items she cites in alphabetical order. We browse through her varied lines like shoppers looking for things to relieve the dreariness of rainy days – this area gets 70 to 90 inches per year – or to discover a small treasure we just can't live without. The poem itself is one of those treasures.
Not only does Knoll delight in language, but also educates us about life on the coast. For example, we learn: "In winter winds,/umbrellas are useless./Bring a hat in all seasons, pull it down tight." ("The Way the Wind Blows") We are warned that "A child's shovel is not safe/stuck in the sand overnight. Mornings/light up a new beach, handiwork/of the cleaner, scrubber, rearranger/of rootwad benches." ("Pacific Night Work") And in the inventive "The Child's Sea Garden of Verbs," she offers "a tidepool glossary" that parents and grandparents can "tiptoe through … to conjure in marine gardens repeating names like spells./Verb gifts of watch for sneaker waves and where you step."
Interspersed among the poems are letters to government agencies that reinforce Knoll's concern for the environmental issues. She writes to Oregon's Governor Kitzhaber, asking him to "Please jumpstart an Oregon State Parks' study about cars cruising on Oregon beaches." ("Letter to the Governor of Oregon")
The Manzanita City Council gets an earful. For example, she writes, "The City's recent water bill asked for input to Council on local issues. Here I am. Begging again for driftwood awareness." ("Letter #32 to the Manzanita City Council about Bonfires on the Beach")
And,
The City Council did a fine job coordinating the Fourth of July parade today …. May I ask the City to require next year that vintage cars in the parade display signs identifying the make of the car and date of manufacture? … . Ask drivers to include exhaust emission numbers and the average mileage per gallon on highway and in-town driving … . You ask equestrians shovel up after their horses. Insist drivers own up to what autos leave in the ocean air. ("Letter #33 to Manzanita City Council")
We can only guess at the contents of the first thirty-one letters! Undoubtedly, the Council was relieved to learn in #33 that this would be Knoll's last letter. She was about to move.
At the end of Ocean's Laughter, Knoll leaves us with poems addressing the sale of her home on Beeswax Lane and the bitter-sweetness of leaving it all behind. Anyone who has gone through the process of letting go of a cherished place can identify with the touching lines such as "My dog's paw print carved in spring mud,/everywhere my fingerprints." ("My Cottage Garden after The For-Sale- Sign Goes Up")
And in "From Blue to Gray," Knoll remembers:
Generations of children
have built dams in the outflow creek
at the foot of Beeswax Lane.
I cleaned St. Helens' ash from the gutters.
… Paid twice as much for flood insurance
as annual property taxes.
Three of the dogs I brought here
are dead. Mother's ashes on Neahkahnie … .
Few local poets are so committed to the art and craft of writing and so passionate about the health of the planet as Tricia Knoll. Ocean's Laughter exemplifies both. What Sting – the songwriter, lead singer, and bassist for The Police – once said about his own artistic mission can easily define Knoll's: "All my life I have tried to find the truth and make it beautiful." Ocean's Laughter is filled with an abundance of beautiful truths that will touch the hearts and minds of those who know the coast, and will serve as an invitation to visit to those who have yet to explore its rugged richness.
Author bio:
Tricia Knoll is an Oregon poet whose works appears in numerous journals and anthologies. Her chapbook Urban Wild (Finishing Line Press 2014) explores interactions between humans and wildlife in urban habitat ranging from Lone Fir Cemetery to downtown Portland. Ocean's Laughter is available from Amazon and local bookstores in Cannon Beach, Manzanita, and Portland. Website: triciaknoll.com
Reviewer bio:
Carolyn Martin's poems and reviews have appeared in publications throughout the US and UK. Her second collection, The Way a Woman Knows, was released by The Poetry Box, Portland, OR in 2015.