Review by Larina Warnock
Willingly Would I Burn
by Laura LeHew
MoonPath Press
ISBN 978-1-936657-08-7
2013, 57 pp., $10
http://www.lauralehew.com/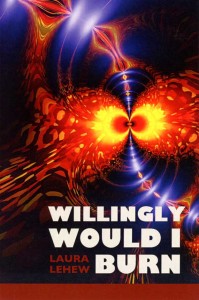 On a surface level, mathematics and poetry couldn't be more different. Mathematics comes to conclusions using logical reasoning; poetry uses emotional reasoning. Mathematics adheres strictly to universal rules; poetry subverts rules believed to be universal. Mathematics leads to a single right answer, poetry to a million answers that may or may not be right. Laura LeHew breaks all of the stereotypes as these two unlikely subjects collide in Willingly Would I Burn.
It is impossible to describe reading this collection as anything less than a cerebral experience. Like most writers of poetry, I tend to analyze the way words come together as I read, but LeHew's collection forced me out of that habit early and easily. In poems with titles like "The Tension of Triangulation," "Adjacent Angles," and "Logomachy," LeHew uses the tools of mathematics to demonstrate the complexity of human problems.
Prose poems disguised as word problems deal with issues of financial choice, but are complicated by uncontrollable variables that make a "right answer" impossible. In "A Word Problem, 6," for example, the narrator asks "If Angela / makes $3,775 annually (plus tips) and Issiah has asthma / what is the cost of a National Health Insurance Plan?" and follows immediately with, "Bonus If a woman's right to choose is taken from her, / what will be the cost?" These lines follow the story of Angela trying to get treatment for her son Issiah's broken arm and an explanation of unemployment, safety, and air pollution in their home city. In the same way that LeHew uses mathematics to complicate her poems, here she uses the tools of poetry to complicate what is, on the surface, a simple math problem. The result for the reader is a left brain/right brain dance through the page that conjoins thinking and feeling as if they belong together.
Perhaps the greatest strength of this collection is its careful attention to a wide range of current social issues in the United States and especially issues related to women. In "Why Aren't There More Women (aka Girls) in Math and Science?" LeHew creates a timeline that shows us how women are affected from without:
guys naming the email server gang so that my email
would be gang!laura@…
["!" is a bang] = [gang-bang-laura@…]
LeHew also shows us how it happens from within:
[because they could]
[because they can]
[– we—let—them—]
Not every poem dives into the political and readers who love romance won't be disappointed by LeHew's innovative mode of managing this traditional subject. Poems like "The Parameter of Regret" remind us that sometimes any attempt to solve an irrational problem rationally may lead us to something unexpected like:
gardenia = kiss1/(1-regret).
Note that if regret > 1, then we have to add the solution
gardenia = 0 to the solutions found via the technique
described above
While the casual poetry reader might find the unorthodox structures of many of the poems in this collection (surveys and flowcharts to name just two) difficult, anyone with a love of mathematics, science, and playful language will appreciate LeHew's careful, intense treatment of the broad range of subjects covered in this book. The experience is both cognitive and philosophical, layered in the humanity of math.
Reviewer Bio: Larina Warnock is an author and poet living in Corvallis, Oregon. Co-founder of The Externalist and Writers on the River, Warnock's work has appeared in VoiceCatcher, Touch: The Journal of Healing, Poet's Market, The Oregonian, Threshold, Space & Time Magazine, and others and has been nominated for a Pushcart Prize. Her chapbook, a memoir-in-poetry titled Guitar Without Strings is available from The Lives You Touch Publications. Website: www.larinawarnock.com