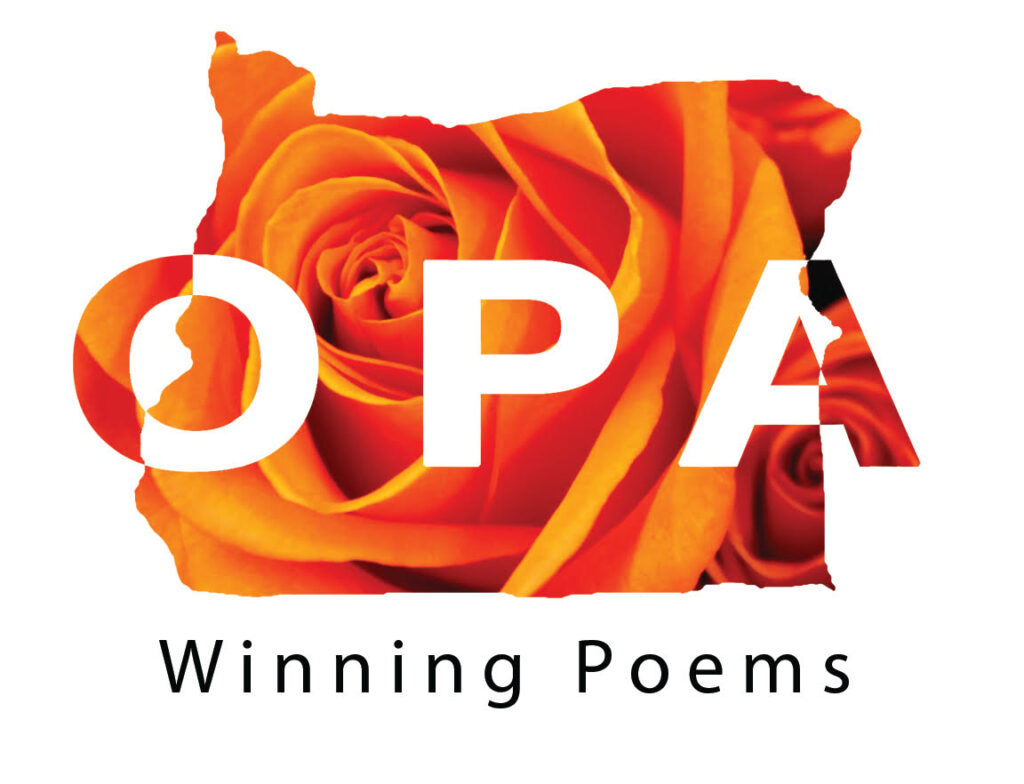 2023 SPRING ADULT CONTEST RESULTS
THEME WILDLIFE (ANY INTERPRETATION), JUDGE KELLI RUSSELL AGODON
1st Place, "Broken Line" — Ann Farley
2nd Place, "Vinterstid1/Winter's Time" – Auna Johannessen
3rd Place, "Extinction Dreams after Beachie Creek Fire" — Carey Taylor
Honorable Mentions (in no particular order):
"Snow Globe Valentine" – Shawn Aveningo-Sanders
"Of the Wild Bees Living in a Tree in the Alley" –Nancy Flynn
"After the Memorial Service" –Gwendolyn Morgan
"A Door" — Richard Robbins
"Bee Eaters" –Tamarah Rockwood
"Night Flyers" –Joy McDowell
"This Flock of Small Dark Birds with White Bellies" –Penelope Scambly Schott
"Natural Habitat" – Linda Ferguson
Judge's comments:
As a poet myself, I understand the subjectiveness in choosing poems for a competition. There were so many wonderful poems that will go unacknowledged in my list below, but know, it was my pleasure and honor to read for the Oregon Poetry Association's contest and if your poem wasn't recognized in the list below, please know, I appreciate you for writing it and sharing your work with me; I was touched by so many of these poems, thank you.
~ Kelli Russell Agodon, Judge of Oregon Poetry Association's 2023 Adult Spring Contest and Author of Dialogues with Rising Tides (Copper Canyon Press)
"Broken Line" is an ecopoem that allows us to be of witness to he trauma we've created for other living species. In this poem, we find a wounded seabird that is called "just another gull" and we see how as humans how we choose and decide what we will save. It made me ask myself "had that been a dog or cat or even a fawn caught in the net, that we would do more?" What I admired about this poem is how not only was it a poem of witness, but also the reflection of the incident and the deep feelings of regret the speaker has for not being able to do more. As a poet, environmentalist, and compassionate human, this poem hit me hard. The poet's choice of couplets was skillful in that this is a poem between a human and gull and the poet's ability to write a narrative poem that not only deals with the seagull's suffering without over-sentimentalizing it, but brings in the feelings, ineptness, regrets, disappointments we may feel as humans. If a poem can break your heart in the most beautiful way, this one did mine and I carry the wholeness of it with me. This poem changed me and made me question my own actions, which is what the best poems do.
"Vinterstid1/Winter's Time" moves us seamlessly from one subject to another through image. From cloud to creek to mountain to raven to wolf to cat to human to grace—this poem felt as if I was in a meditation—it was a stunning consideration of who we as humans are in the world. I was taken by these lines: Did you know humans are the only species that preys on its own kind? / This world is chronically short on compassion, and rife with violence./ But have you ever seen the way light breaks through the clouds in winter? The poet is a skillful observer inviting the reader into the poem through this poignant questioning and to leave us with a hopefulness at the end, this is a gift.
"Extinction Dreams After Beachie Creek Fire" is a smart and witty poem that lured me in with a dream of Brad Pitt as a "smoky kisser" only to surprise when I realized I was in a poem about the climate crisis. This is long-armed poem that brings in dead fathers and pet beagles all while still addressing a larger issue—the speaker unsure whether they can open their windows due to smoke—this poem was a reminder of how we are living our lives as normal as we can through environmental collapse but entirely through imagery and even gratitude that "this morning your/barn still stands." I was impressed with the poet's ability to use pop culture and whimsy as a doorway to deeper and important discussions about the environment.
"Snow Globe Valentine" reminds us how our stories are woven together with the natural world. The poem starts out as if it will just be a poem about looking at a birdfeeder, but the poem brings us into Valentine's Day and a parent missing their grown children. This poem had a definite Ted Kooser feel with its ability to show a scene in everyday language while still dealing with larger topics of aging, mortality, and change. It felt like both a poem and a valentine with a mix of emotion, which makes me think of the Greek word, charmolypi meaning, "sweet, joy-making sorrow;" this poem shoots past "bittersweet" into a beautiful melancholy but with love and hope, all which resonated with me.
"Of the Wild Bees Living in a Tree in the Alley" beautifully weaves in the images of Emily Dickinson into a poem deeply rich with the poet's own voice that pulled me in with its cadence and music with lines such asTo honey each morning hour, / candle in our presence, emit a hum/as if the universe had been reduced/to buzz. Reading this poem was like being lost in a garden where every flower is in blossom—a skillful and well-crafted poem.
"After the Memorial Service" reminds us of the inspiration and visitations from the animal world, specifically birds especially after more challenging moments of grief. The juxtaposition of the freedom of eagles soaring on updrafts and a foggy gray turtleneck, anxiety expands in her chest, felt like a painting of both hope and heaviness. The poet ends the poem with these lines, this couldn't possibly be a poem, she says, showing us those moments where we are living a poem in our own lives. A wonderful study of observation and kudos to the poet for choosing "Marbled Godwits" which brought in a subtle spirituality and connection into the mix.
"A Door" is a sonnet that shows the speaker high up on a boulder where they consider their life, the landscape surrounding them, but also their own town with its few/car wrecks and knifings, the mix of neighbors,/woman who loves me. It was the last image that made me take a deep breath at my own humanness and temporariness and how we all exist and all at once—this knobbed bark whose needles and cones make small/gesture toward a future. Time inside time. The poet did a wonderful job sharing this moment with us.

"Bee Eaters" is a poem that mentions a George Seurat painting while creating a painting for the reader. Like Seurat's use of tiny, purposefully planned dots of pure color (which became known as Pointillism), the poet created each line as a visual gem moving us in and out of history toward the final couplet where there almost felt like a nod to William Carlos Williams' "Red Wheelbarrow" where We would not notice the bees/On the clovers, near the horseshoes.
"Night Flyers" is an ode to geese and a study of collaboration, communication, and community through the images and facts about geese, but entirely as a poem. With lines like against a city horizon/their silhouettes flap in a halo of electric light and all the details such as how the geese know how to change leaders in flight to save energy, I was lost in the joy of learning more about these sky travelers and how they communicate and survive.
"This Flock of Small Dark Birds with White Bellies" is lovely look at how we may want to interact with winged creatures, but we may not always know their names, but want to learn. It was the charming ending where the speaker after apologizing to the birds for not knowing their names still wants to honor them for their beauty and says, "Will you settle for Winged Darlings?" The accessibility and story in this narrative poem was quite warming to me.
"Natural Habitat" is a beautiful reminder how nature, even our own backyard, can soothe anxiety and quiet the mind. When we arrived at the moment of watching clouds, I was there with the speaker understanding that we are small lives in a large universe, and these lines —There are moments here when I'm both/more and less – a single, shimmering vein/in a dragonfly's jeweled wing, reminding us how we are all connected. Beautiful portrait of an afternoon.
Thank you for asking me to judge, it was a joy. Best, Kelli
—————————————-
Broken Line – 1st Place, Ann Farley
The immature gull, brown speckled
but full grown, flailed on rocks at the edge
of the beach, deep sea fishing line
a noose around one pink webbed foot,
tendrils of opaque nylon snarled
in jagged rock. The gull screeched
and flapped, jabbed beak at foot and rock.
I couldn't get close enough to save it, afraid
of that beak, afraid of the bird's fear.
Back at the cottage I called Animal Control.
Just another gull, they said. Throw a blanket
over it. Maybe you can free it then.
My regrets are few, mostly words I wish
I could reel back and re-spool in neat,
overlapping coils, safely encased.
I never meant to be mean, but a flash of anger
is a heady drug, strong and empowering,
when I'm at my weakest, most vulnerable.
Even the thinnest line cuts through skin
when pulled, leaves a mark. I remember
that gull, how I'd been given a chance
to save it, but didn't. The tides wash away
all sorts of things, but regrets hold fast
like the gull in a tangle on a pile of rocks.
Ann Farley, poet and caregiver, is happiest outdoors, preferably at the beach. Her poems have appeared in Timberline Review, Third Wednesday, Gobshite Quarterly, Willawaw, VerseWeaver, KOSMOS and others. Her chapbook, Tell Her Yes, was published April, 2022 by The Poetry Box. She lives in Beaverton, OR. Visit www.annfarleypoetry.com
—————————————-
Vinterstid1/Winter's Time — 2nd Place, Auna Johannessen
It's in the way the leaves drop into death, smothered by
Blankets of cloud. It's how the dark is long instead of the light.
A longing for the deep and liquid rest of the leaves
Sifts to the surface from within their rot on the forest floor.
It's in the way the humble creek runs bright blue in winter,
heavy and laden with summer's glacial silt. It must pine all year
For this union with the mountain, its lover, who lives
Miles away. It longs for the dark and despises the light.
It's easier for the mythic to manifest in the darkness, imbuing the day to day
With import. Like how silence and candle light can be sacred.
The croak and caw of the Raven resounds over the humble creek.
He eats the flesh of the dead, beginning with the eyeballs.
Most don't know he can't open a corpse on his own. He hunts with
Wolves, spilling the secret location of the herd or waits for decay.
Hunger and Sult1 both mean the same thing in different languages
But feel different on the tongue and spirit.
It speaks to the act of entering another world when you talk
With a different tongue. Or of living between both of them.
Things shift around in the shadows, hidden from direct view.
The subtle worlds and parts of a person are most present in the darkness.
Look at the liquid way that cats silently move in the dark.
They are sensitive like horses, with the swagger of a predator.
Cats' paws pad and softly slink silently on any surface, their claws
Hidden from sight until it's too late. Then it's lights out.
Women are like cats in some ways. The human part of them
understands predation. Like cats, they also know what it is to be prey.
Did you know humans are the only species that preys on its own kind?
This world is chronically short on compassion, and rife with violence.
But have you ever seen the way light breaks through the clouds in winter?
For that second, all of my feelings of shame and contamination clear.
The way that sunbeam sends itself to Earth
Is a long awaited reminder of the inevitability of grace.
Norwegian
Auna Johannessen is a Queer Norwegian American Poet and Psychologist. She identifies as gender fluid and uses they, she, and he pronouns. Their undergraduate major was in geography. They have a fascination with landscape as well as the human psyche and behavior. Auna attended UC Berkeley and Pacific University. He is new to OPA and workshopping and sharing poems with others.
—————————————-
Extinction Dreams After Beachie Creek Fire — 3rd Place, Carey Taylor
In that coal mine sleep before dawn,
before shell of light opens, you find yourself
at a party with Brad Pitt.
Drunk and looking sad, he places his hand
on the nape of your neck, fingers your
fishing-line scar, leans in and kisses you.
He is a smoky kisser and a sloppy drunk,
but in this dream you are younger,
so you say nothing.
Next you are with your realtor, looking for a new
house. The well has run dry. Water is trucked in
as they once delivered heating oil.
A new electric fence barricades the property to shock
feral pigs. No blade of spring in the yard. Rain
boots ache for scent of Daphne.
Suddenly you are picking apples in your dead father's
orchard. From a ladder he hands you Gravenstein after
Gravenstein. You fill buckets for pies.
From his perch he looks north to Canada.
Declares smoke filled skies
have cleared.
Awake, you grab your phone and check the air quality.
Particulates are low. You throw open doors and windows.
Breathe first fresh air in weeks, sigh deep like your
beagle after rubbing his belly. This morning your
barn still stands. The goats and horses are hungry.
Neighbors bring eggs, and for a moment
you are goldenbanner on the prairie, thunder of buffalo
on the grasslands, bluebonnet sky—wide open
above the deep-blood kettle.
Carey Taylor is the author of The Lure of Impermanence (Cirque Press 2018). She is a Pushcart Prize nominee and winner of the 2022 Neahkahnie Mountain Poetry Prize. Her work has been published both in Ireland and the United States and is forthcoming in The Black Spring Press Group Anthology-Before the Cameras Leave Ukraine (London). She holds a Master of Arts degree in School Counseling and currently lives in Portland, Oregon. https://careyleetaylor.com
—————————————-
Kelli Russell Agodon's newest book is Dialogues with Rising Tides (Copper Canyon Press) was recently named a Finalist in the Washington State Book Awards and shortlisted for the Eric Hoffer Book Award Grand Prize in Poetry. She is the cofounder of Two Sylvias Press where she works as an editor and book cover designer. She lives in a sleepy seaside town in Washington State on traditional lands of the Chimacum, Coast Salish, S'Klallam, and Suquamish people. She teaches at Pacific Lutheran University's low-res MFA program, the Rainier Writing Workshop. Kelli is currently part of a project between local land trusts and artists to help raise awareness for the preservation of land, ecosystems, and biodiversity called Writing the Land. www.agodon.com / www.twosylviaspress.com