Setting the Fires by Darlene Pagán
Airlie Press, 2015, $15.00
Reviewed by Carolyn Martin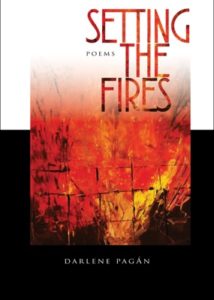 When Randall Jarrell defined a poet as someone "who manages, in a lifetime of standing out in thunderstorms, to be struck by lightning five or six times," he could have been describing Darlene Pagán.
In Setting the Fires, lightning strikes this talented poet dozens of times in poems that sizzle and smolder, delight and engage, surprise and move.
For starters, what is so striking about this collection is its structure. Pagán has adeptly arranged her forty-three poems into three sections– "Fuel," "Heat," and "Breath" – with fire, both literal and metaphoric, as the unifying image.
For example, the opening poem, "How It All Started," immediately announces this intent. It tells the story of a female camper who has exasperated her male companion because she forgot the lantern, the towels, the hot dog buns,/the matches. She can't fry an egg/over an open flame, dumps her companion out of a canoe into the river, and fails to extinguish the campfire. The last two stanzas contain the driving impulse of the collection:
Again and again,
she buried the stubborn coals, watched them
gasp for air and reignite. He slammed a car door
as an ember opened its smoking eye and trained it
on her like a dare. The ember woke another
and another as she turned to walk away.
The stubborn ember of poetic imagination continues to open its smoking eye in such poems as "Wife Still a Suspect in Blaze that Claims Husband," "Things I've Taken a Match To," and "A Sage Advises How to Firewalk." It morphs into the burn of desire in "St. Mary's Catholic School for Girls," "The Quarry," and "Blackout." It smolders in poems about loss and grief such as "The Uses of Grief," "In College, I Job Shadow My Mother, A Hospice Nurse," and "The Lamp."
Setting the Fires, then, could easily serve as a model for how to structure a poetry collection, but it's much more than that. A second and third reading – and this collection will lure readers back again and again – uncover a master poet who peoples her poems with unforgettable characters and imagery that pass the Emily Dickinson test: If I feel physically as if the top of my head were taken off, I know that is poetry.
For example, in "St. Anthony's Bread," a chance – and initially uncomfortable – encounter on a bus results in a moment of communion between the narrator and a stranger in faded fatigues …/who lumbers down the aisle/with a yellow blanket tucked under his arm/like a baby he's ransacked from a stroller.
He sits down beside the wary narrator, unwraps a monstrous sandwich, and, to her dismay, offers her a bite. Although his slick, black hair [is] speckled with crumbs/and woven with lettuce and His eclipsed eyes/give [her] vertigo, the narrator is engaged. She says,
… I do not flinch when
he tears off a chunk and extends
his open hand under my nose
as if I were a bird hovering
at the open window. I take
the bread in my mouth and hold it
like a promise, an offering, a secret
I will keep without knowing the terms.
The beauty of this lyrical landing is one of the hallmarks of Pagán's art: her ability to raise the poetry stakes from the concrete details of narrative to the heights of metaphor.
In "The Farrier," one of the most touching and powerful narratives in the collection, a young girl contrasts her father – a blunt-edged shovel of a man. A dry/ spigot of a man – to the farrier: With his full beard/and chocolate gaze, he looked like a lean Grizzly Adams.
She observes how her mother curls her hair when this man is scheduled to come, and she listens to the whinnies of laughter emanating from the barn as her mother stroked the horses' manes and the farrier/cradled one, then another hoof, his voice milky.
Since Dad is off working two shifts, the girl and her mother are left under the spell of a man so unlike him. The last two stanzas are filled with the girl's yearning to have the farrier in their lives forever:
He greeted me with Howdy Do, Little Lady. I shared
the news that played all day and night from the barn,
like how it snowed in the Sahara Desert for thirty minutes
and gas prices were expected to hit $1.00 a gallon by summer.
He searched my eyes the way only the horses did as he shook
his head and whistled disbelief. Just once, I wanted him
to sit down for supper, chew the fat, then ride the horses so
hard beside us, their shoes would wear out and he'd have to stay.
While readers can commiserate with the absent father who is off supporting his family, they also can feel the burning desire for the connection and intimacy that the farrier provides. The narrator leaves us to wonder if Mom running off with the farrier would, indeed, make all the sense in the world.
Pagán fills out the pages of Setting the Fires with poems on topics like a failed driver's test, a visit to a shooting range, knife-throwing lessons, death, the joys and heartbreaks of motherhood. She leaves us with so many memorable, well-crafted poems that readers will be hard-pressed to pick favorites. Lightning strikes every page.
Reviewer's bio:
After forty years in the academic and business worlds, Carolyn Martin is blissfully retired in Clackamas, OR, where she gardens, writes, and plays. Her poems and book reviews have appeared in journals throughout the US and UK, and her second collection, The Way a Woman Knows, was released by The Poetry Box in 2015 (www.thewayawomanknows).