Review by Penelope Scambly Schott
Controlled Hallucinations
by John Sibley Williams
FutureCycle Press
ISBN 978 – 1938853227
2013, 78 pp., $14.00
http://johnsibleywilliams.wordpress.com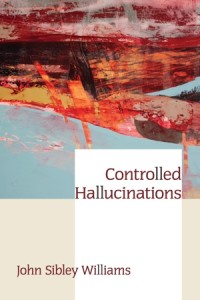 This book is well-titled. It contains the poetry of allusion. Williams' go-to symbols are such elements as the sea, mirrors, birds, or even gravity itself. These appear frequently in this poetry of transparent mystery.
What is there is almost there. I don't mean that the poems are vague – though they are short on specifics – if there is a tree we don't know what kind of tree, if there is a bird, it is rarely named – but the poems create a hallucinatory aura of magic where everything stands for more than itself. Perhaps this is the quality that John Sibley Williams and Anatoly Molotov are embracing in the new journal The Inflectionist Review.
The poems themselves are numbered rather than titled, thus coming at us like dreams without giving us any prompt or shove as to how to read or interpret. We do not gloss so much as experience. The magic of this world is not hidden but lurks near the surface.
Williams is obsessed with language. Several poems in this volume might serve as an ars poetica. In poem XXI he says that even as a child when a storm was approaching and others did practical things,
I would cry out a list of synonyms
for what was to come:
tempest blizzard gale squall cloudburst
chaos
upheaval
He would survive via words and he can still "take comfort in their distance."
Here in its entirety is one of my favorite poems about his explorations of language:
XLVIII
Forks and knives dull,
teeth worn down,
I am left to eat
in broken English.
I try to step around the flavors
passed through so many mouths,
around the stacks
of overused plates
that have cracked with wear–
the only plates at the table.
I try to trace each cliche back
to a curious hand
tapping a white cane
in hopes of rediscovering
my blindness.
How better to describe a search for the original freshness of English?
Williams' approach to defining the undefinable works especially well in his poems about love, that front-runner in indescribable human experiences. He asks, in poem IX,
When does it end,
this search for a more intimate gravity,
this need to replicate embrace?
Perhaps XLII offers a semi-answer: "Most of me/attended/the Big Bang/just to ask it/if other theories/were possible." The speaker stomps around the cosmos waiting for an answer which he then can't hear because "I'd left/my ears/far below/on your/sleeping chest."
Controlled Hallucinations is one of those unusual books that teaches you how to read it. Once I could let go and be taken up in the hallucinatory process, I learned to enjoy where it took me. You might too.
Reviewer Bio: Penelope Scambly Schott's most recent books are LOVESONG FOR DUFUR and LILLIE WAS A GODDESS, LILLIE WAS A WHORE.  Her verse biography A IS FOR ANNE: MISTRESS HUTCHINSON DISTURBS THE COMMONWEALTH received an Oregon Book Award.  She teaches an annual workshop in Dufur, Oregon.