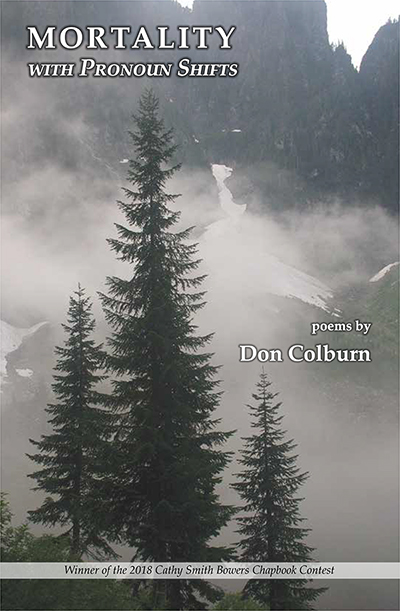 Mortality with Pronoun Shifts by Don Colburn
Winner of the 2018 Cathy Smith Bowers Chapbook Contest
Main Street Rag Publishing Company, 2019, 40 pages, $12
ISBN: 978-1-59948-732-8
Available at https://mainstreetragbookstore.com
Mortality. It's a mighty word that has the potential to haunt each of us on our walk through life, forcing us to face the inevitable. Yet somehow, in his prize-winning chapbook Mortality with Pronoun Shifts, Don Colburn has not only made our impermanence more palatable, but almost endearing.
For instance, in "En Plein Air" he takes the reader on a trek through fields only to return to a favorite spot in which to immortalize the day's offerings on canvas:
Out here, you paint what the eye sees,
not a memory in the studio. Urgency
the only rule …
It's as if by honing in on nature's transient beauty—perhaps a bloom that lasts only for the morning—we learn to live in the present, more fully, more alive.
Of course, this doesn't eliminate our desire to escape our fate. Instead, we are led to ponder the "Bristlecone Pines" and call its twisted beauty/ beautiful only to realize we may have been duped. What makes a good story/ maybe a fable might only be our own great reluctance to expire.
Our expiration is closer than you think in this very moment. This becomes crystal clear in the book's title poem, where the pronouns do indeed shift from the ubiquitous you to that most personal I. HereColburn shares with us a series of close-calls, such as the ice axe a lightning rod in your right hand, and an undeniable grace as he woke up this morning, still lucky.
So why then would a reader be drawn to a collection of poems about death? And why would a poet set out to even write on such a seemingly gloomy theme? Aside from examining this impending truth, these poems can guide us to reconcile our present with our past—whether it be regret for our own missteps or, like in the poem,"Going for Tests," a chance to compare our plight— a horse pill/ whose side effects run two pages— to a dear friend's prognosis:
Year, year and a half, if he's lucky—
a word so fickle it puts on a fresh disguise
in time for each new round.
The poet nudges us to re-examine with deeper reflection what we learned in school. In "Abe Lincoln's Hat," the speaker visits the Smithsonian where he can see barely, darkness on darkness,/ the black silk band that he added after Willie died.
Subject matter aside, Colburn has a remarkable gift for sneaking in a bit of wordplay and injecting his wry sense of humor at just the right moment. For instance, he takes on an ironic turn onto Icicle Road in 97-degree heat in "Agenda for Getting Away at 69" where, despite severe fire alerts, he will:
Unload pack, wrestle it on. Tighten belt. Wince.
Tap altimeter, ditto fucking out-of-service phone.
Look up, sniff for smoke, start walking anyway.
Like most good poetry, brilliance is found in the quiet details of observation. And Colburn proves to be a master of quiet details—like a dusky little nameless bird, until it sings. ("Along Mink Brook, Early Spring")His poetry urges us to live in the now, in the presence of beauty, as in the same closing poem he reminds us:
The day after the funeral, we walk out
into the cold light of this early world
which goes on unmoved by our need to name it.
I found Don Colburn's Mortality with Pronoun Shifts to be an enjoyable, thought-provoking collection—one that revealed new nuances with each reading. And I have an inkling, you will wholeheartedly agree.
—————–
Reviewer Bio:
Shawn Aveningo-Sanders grew up in Missouri and, after a bit of globetrotting, finally landed in Portland, Oregon, where she overcame her fear of birds upon meeting two baby juncos in her backyard. Her most recent chapbook, What She Was Wearing, was released in November 2019. Shawn's work has appeared globally in over 140 literary journals and anthologies. She's a Pushcart Prize nominee, Best of the Net nominee, co-founder of The Poetry Box press, as well as managing editor for The Poeming Pigeon. Shawn is a proud mother of three amazing adults and shares the creative life with her husband Robert.