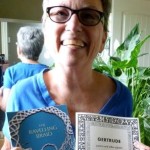 Tradition
We serve Thanksgiving dinner on the back
of our father's polished guitar, there is a breadboat
and a small aperture full of violets. This
we are expected to repeat each year. One day
I take the guitar from behind the reredos. I carve
dense mayhem into the spruce. I offer the guitar to a field
where bees are going mad in heavy heads
of lavender. When Thanksgiving comes again
I serve chole bhatour from an altar made
of our mother's bones. No one is happy.
They ask me what have you done with father's guitar.
I bring each one a basket of lavender.
The traffic on the boulevard below my window
has lost all respect for tradition, turning in circles,
a slow cortege. Nobody has died in weeks.
…
COMMENTARY:
In my family I was always the one pushing and pulling at the sticky web of custom, always the one to suggest lasagna for the holiday dinner instead of a turkey. My resistance was futile—I was outnumbered by my parents, my sister and brother and their children.
Now I'm just about the only one left, and thinking about the way I struggled against tradition, expectation, against that oldest and strongest of "family values"—guilt.
This poem attempts to view this struggle through a safety shield of metaphoric language.
…
BIO:
Toni Hanner's poems appear in Yellow Medicine Review, MARGIE, Alehouse, Calyx, Gargoyle, Tiger's Eye,and others. She is a member of Lane Literary Guild's Red Sofa Poets and Port Townsend's Madrona Writers. She had two books published in 2012 —  The Ravelling Braid from Tebot Bach, and a chapbook of surrealist poems, Gertrude, from Traprock.
Hanner's passion at this time is for writing that is energetic and edgy. She enjoys playing with language using word lists, photographs, and writing prompts. She leads a weekly writing practice group and often provides generative writing exercises (including the infamous "Pass the Prompt") at writing conferences in Oregon and Washington. She is married to the poet Michael Hanner and lives in Eugene, Oregon.