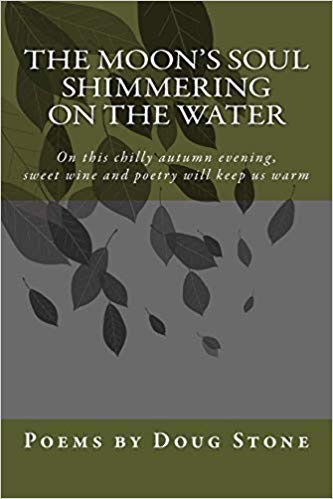 Self-published book, 2018, 53 pages, $12.00
ISBN 978-1724418180
Available on Amazon and Barnes and Noble
To write 21st century poems in the manner of 20th century English translations of Chinese poems by Ezra Pound or Gary Snyder may seem an affectation ­– I use this word knowing that I, too, write this way. In Doug Stone's second collection, however, the manner becomes a means to realize poems on important themes and to create a distinctly imagined world.
Here are many props of Chinese originals: lots of moon, a cup not a glass of wine, a hut, a well, fishermen, an old woman packing firewood, a small fire burning to ash. Central is the white-haired old poet, accurate to Doug Stone of Albany.
The question is, What can the poet make of such materials?
The book's title suggests these are reflective poems, and the poet speaker is a fine companion through the changes of seasons and daily routines, even the impacts of war. He sits, gazes, sips his wine. He accepts calmly a scene that is not particularized by a local name, yet is specified by image:
Heavy fog has rubbed the landscape away.
("First Morning of Spring")
Thunder cracks like storm-snapped pines.
("Catching Snowflakes in My Wine Cup")
A brood of baby rabbits shiver in the rib cage
of a horse where his heart should be.
("Another Battlefield")
If you've read Chinese translations, you've felt a general effort at the calm unfolding of sequences that begin with external observation and move to the speaker's state of mind, which is allied with the description. The three sections of "Autumn Reflections of an Old Poet" illustrate this, two of them beginning, "From my window." The distant hill, which the poet describes in moonlight, is where he earlier wrote poetry, yet he now assures himself "new poems are just / another cup of wine away." Watching crows for hours "preen away / crusted blood until they shine," the poet wonders
What is it about my life
that I find beauty in a flock
of polished crows?
Sharing wine in the third section, he listens as his friend speaks of his wife:
Each time he says her name
something flickers in his eyes
like a flame wakened
in a bed of straw.
Friendship is a theme in the poetry Doug Stone emulates. The book's last section makes a startling leap: it presents his original poems as an exchange between the great Du Fu and Li Bai. This is as daring as adding several more sonnets to the Shakespeare canon! The book has prepared for this to be credible, to complete Stone's imaginative grasp of a world. Here are traditional moments in Chinese poetry: poems of parting, of reading the distant friend's poems, of receiving the traveler's answer, of recalling the long-dead friend while pausing at the sound of a death knell.
These poems sound accurate given what little we know of these poets' friendship. Du Fu whispers his friend's poems
to the willows who recited
them to the crickets, frogs, and nightingales.
How they sang the night alive with your words!
("When I Read You New Poems Tonight")
In straits, Li Bai reports, "My donkey skuffs a skiff of snow / for the last sweet blades of grass." ("These Withered Autumn Wastes") Years later, Du Fu laments his friend's death, consoled by memories of youth spent together and by "the moon's soul shimmering on the water, / the soul Li Bai was trying to gather in his arms." ("Du Fu: On the Death of Li Bai")
Doug Stone's first book, The Season of Distress and Clarity (Finishing Line Press, 2017), supplied some of the strong Chinese-inflected poems included in the second. That book ranged across several of the poet's interests. It touched upon Russian writers, U.S. cities, and desert and ocean – usually not part of Chinese lyrics. Close to home were the hard drinking and driving found in persona poems of his actual, though imagined, Albany. So, Doug Stone's new work can resume any of these. Whatever material this poet elects to write about, he will surely use it in an imaginatively compelling way.
Biography
OPA Board member Erik Muller is a poet living and working in Eugene. His book of essays Durable Goods: Appreciations of Oregon Poets was published by Mountains and Rivers Press, 2017.